Immigrant Youth Shelters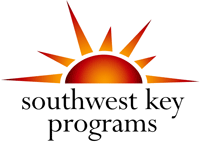 Mission: Reunifying unaccompanied immigrant children with their families while providing shelter and services in a nurturing and therapeutic environment.
Over 85,000 unaccompanied children enter the United States every year coming from countries all over the world such as Guatemala, El Salvador, Mexico, China, and Honduras. Some are orphans, some are trafficked into the country, some come here to work, others to escape abuse and poverty. All of the children Southwest Key serves through its Unaccompanied Minors Shelter Programs are under 18 years old, homeless, and here without a parent or guardian. Most are in search of their families and a better life.
Southwest Key has been the largest provider of services to unaccompanied children in the United States for many years. Our programs encourage the development of personal and academic skills while facilitating permanency for these refugees. We honor and respect individual cultures and traditions and provide humanitarian services in a nurturing and therapeutic environment. Children are accepted at our shelters anytime of the day or night and trained staff is available 24 hours per day to support them through their journey. During their stay, they receive counseling, legal and medical services, and attend an on site school while awaiting the resolution of their legal case. The national goals for ideal length of stay in these shelters is 45 days as arrangements are made to either reunite the youth with relatives living in the United States or back in their home country.
Shelter Program Locations
1. Lemon Grove #951, Lemon Grove, CA, 619-464-4288
2. El Cajon #941, El Cajon, CA, 619-561-8678
3. Pleasant Hill # 949, Pleasant Hill, CA, 925-935-2740
4. Lighthouse #926, Phoenix AZ, 602-343-7600
5. Myrtle #927, Glendale AZ, 623-435-2512
6. Campbell #928, Phoenix AZ, 602-841-1038
7. Canutillo #929, Canutillo, TX, 915-877-3317
8. La Esperanza #213, Harlingen TX, 956-421-2034
9. Conroe #952, Conroe TX, 936-523-4000
10. Casita El Paso #930, Clint, TX, 915-851-1018
11. La Esperanza Shelter #946 , Brownsville, TX, 956-547-7700 (main)
12. La Esperanza Main Office/School #944, Brownsville, TX, 956-546-0373 (school)
13. Home Study Program #953, Conroe TX, 936-523-4000
14. Casa Blanca #954, San Antonio, TX, 830-980-8088
15. Casa Franklin #931, El Paso, TX, 915-532-0600
16. Houston-Mesa #950, Houston, TX, 713-635-8505
17. Houston Downtown #955, Houston TX, 713-904-5720
Child's Country of Origin
Unaccompanied immigrant children leave their home countries for the United States for a variety of reasons: to attend school, to rejoin family, or to find work to support their families. In FY 2007, the number of children in Office of Refugee Resettlement ranged from approximately 1,000 to 1,600 on any given day, of which 550 were cared for in Southwest Key's shelters. Of those, 76% were male and 24% female; 15% were below the age of 14. The most common native countries of these children are El Salvador, Honduras, and Guatemala. (Source: Office of Refugee Resettlement website)
Cultural Competency
Southwest Key hires staff that is reflective of the cultures of these youth and therefore able to communicate with them in their native languages. This creates a comforting atmosphere for the youth. Additionally, decorations, posters, books, games and other entertainment are provided in the young people's native language. Although youth are communicated to in their native language, they also receive English lessons to help their transition in this country. Youth also learn about the languages and cultures of their peers. This helps them begin to understand the complexities of living in a multi-cultural society.
"I climbed mountains [to come] here, and my dreams finally became a reality. I waited for so long, but I made it thanks to God. And, I thank God for this opportunity, which I will take advantage of. I give thanks to all those people with good hearts that helped me. I will never forget [Southwest Key Programs] because they treated me as part of their family and this is why I am thankful ... I am happy."
~ Eliseo, Program Resident
For more information about this program model, contact:
Alexia Rodriguez
Vice President of Immigrant Children's Services & Legal Counsel
Southwest Key Programs
arodriguez@swkey.org
512.462.2181
Resources
Southwest Key's system of shelters for unaccompanied immigrant minors are funded by the Office of Refugee Resettlement (ORR) in the Administration of Children and Families under the Department of Health and Human Services.
News from our Shelters