Events Calendar
Holiday Posada & Family Fiesta
Thursday, December 13, 2012 6:00 pm - 8:00 pm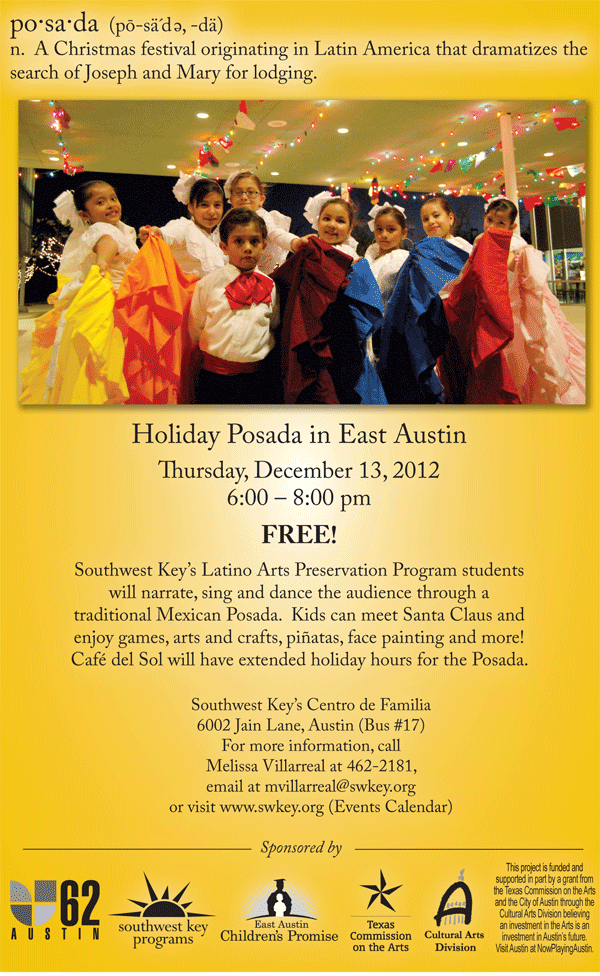 Location:
Southwest Key, 6002 Jain Lane, Austin
Description:
Holiday Posada in East Austin

Thursday, December 13, 2012
6:00 – 8:00 pm

ADMISSION: FREE!

East Austin College Prep and Southwest Key's Latino Arts Preservation Program students will narrate, sing and dance the audience through a traditional Mexican Posada and multi-media performance from Proyecto Teatro. Kids can meet Santa Claus and enjoy games, arts and crafts, piñatas, face painting and more! Café del Sol will have extended holiday hours for the Posada.

Location:
Southwest Key's Centro de Familia
6002 Jain Lane, Austin
Bus #17
http://bit.ly/posada12



​Pre-Event: Come early at 5:30pm for Southwest Key's Mentor Recruitment Social! Come learn what it takes to become a mentor. Door prizes, appetizers and great prizes will be provided! Contact cabrego@swkey.org for more info.


For more information, call Melissa Villarreal at 462-2181, mvillarreal@swkey.org or visit www.swkey.org

This project is funded and supported in part by a grant from the Texas Commission on the Arts and the City of Austin through the Cultural Arts Division believing an investment in the Arts is an investment in Austin's future. Visit Austin at NowPlayingAustin.com.